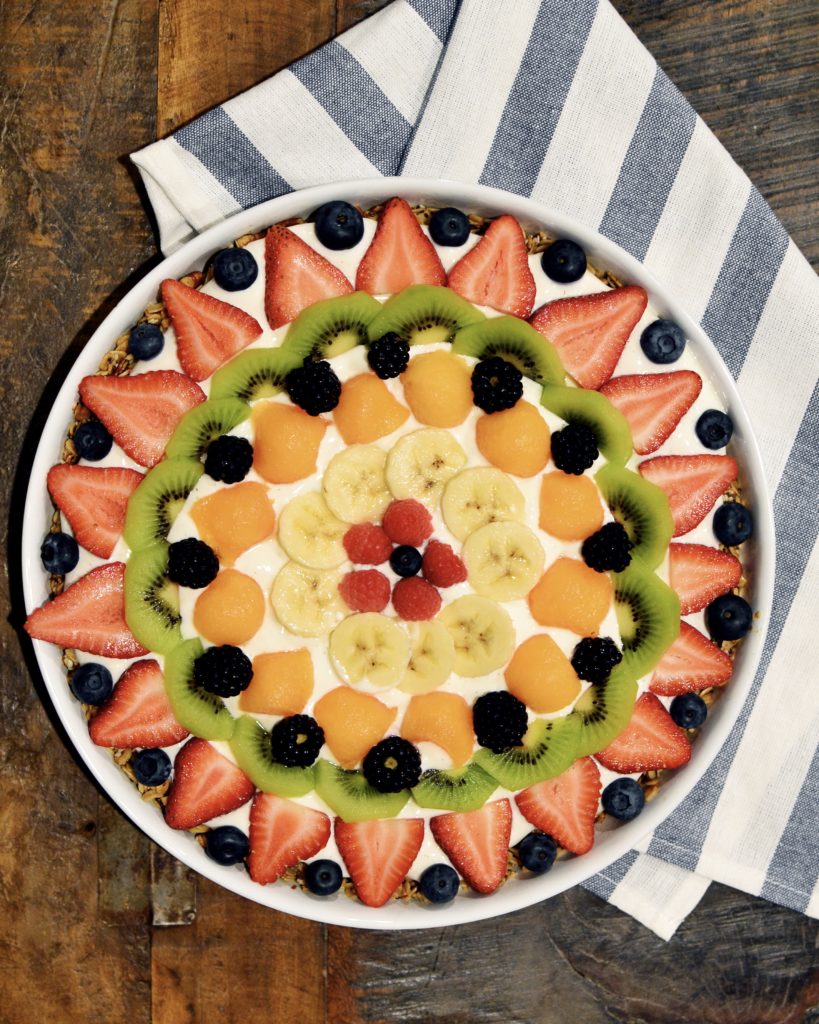 This summer we've had a lot to celebrate with a number of friends buying homes, getting engaged and getting married. My favorite way to celebrate? Have the gang over for a big boozy brunch and toast with champagne!
A few weeks ago one of my favorite couples moved into a new house – that's right a real house, not an apartment or condo but a single family HOUSE – and I busted out this recipe to welcome them to their new home!
This recipe may be gluten free but the granola crust is perfectly crisp, sweet and delicious so everyone will love it! Topped with creamy yogurt and fresh fruit – this tart is as full of flavor as it is color.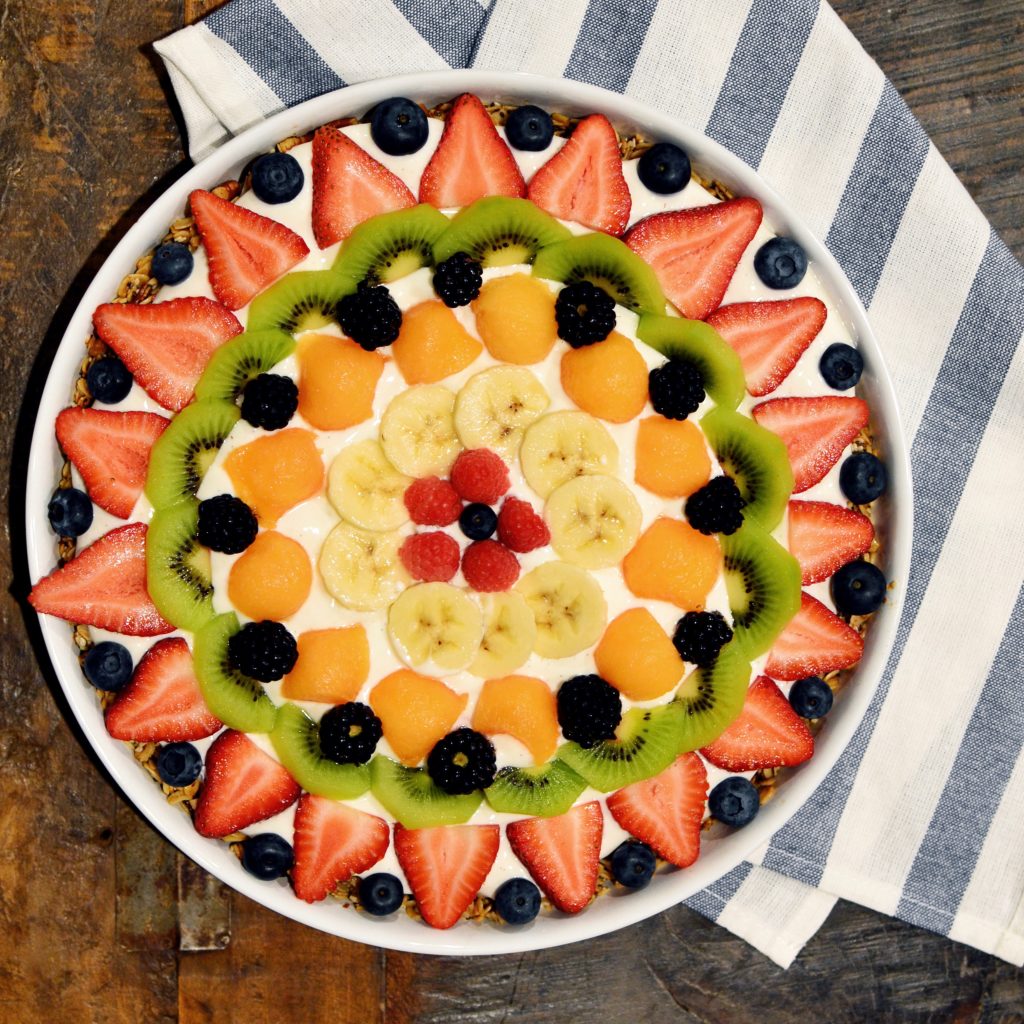 Gluten Free Rainbow Fruit Tart
2017-08-13 17:36:32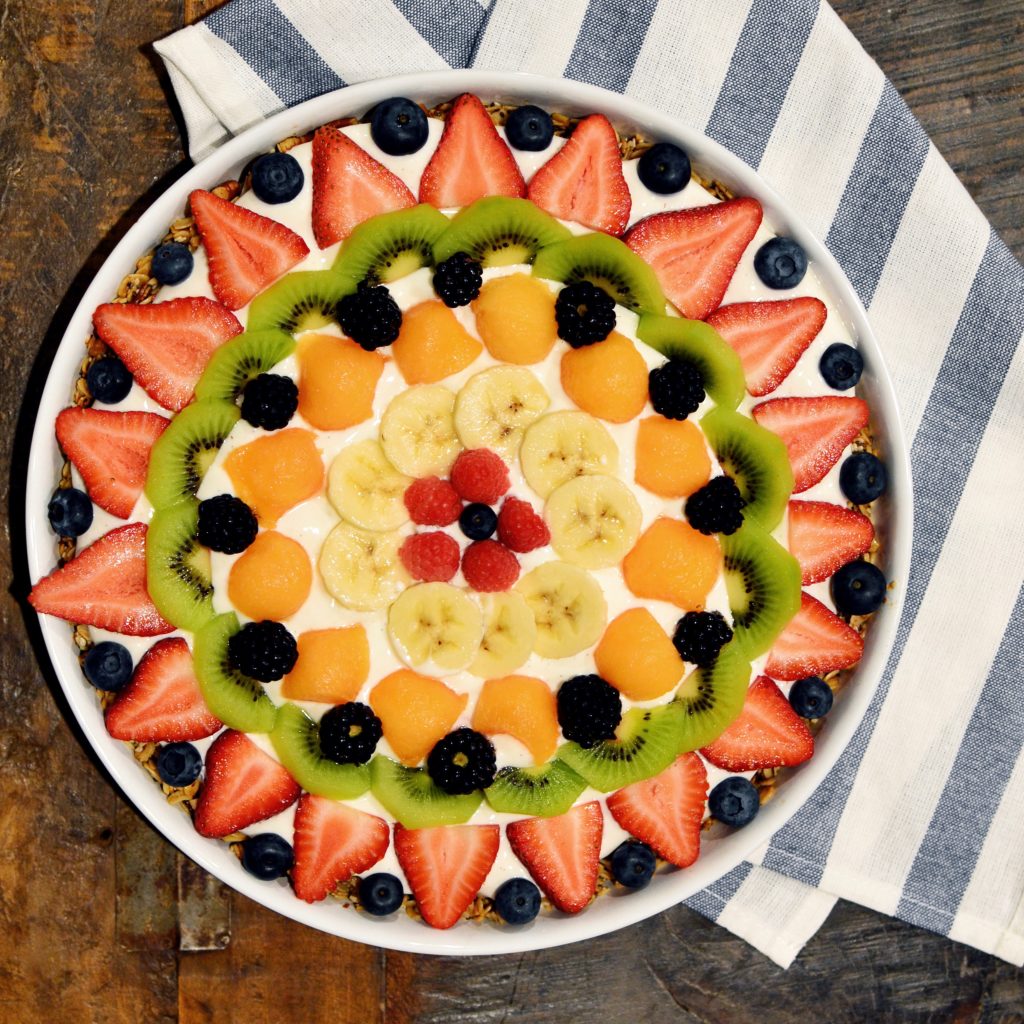 Serves 8
This bright and colorful fruit tart makes the perfect addition to any brunch table! A crumbly crust, creamy filling and fresh fruit toppings come together in this delicious treat. Arrange the toppings however you want - whether you arrange them in circles like I did or sprinkle the fruit on top it is sure to taste great!
Nutrition Facts
Amount Per Serving
* Percent Daily Values are based on a 2,000 calorie diet. Your Daily Values may be higher or lower depending on your calorie needs.
Ingredients
1 cup old fashioned oats
1/2 cup almonds, chopped
1/2 cup walnuts, chopped
2 tablespoon pumpkin seeds
1 tablespoon chia seeds
4 tablespoons butter, melted
1/4 cup honey
1 teaspoon vanilla extract
Coconut oil, for greasing
32 ounces plain Greek yogurt
Blueberries
Strawberries, sliced
Kiwi, peeled and sliced
Blackberries
Cantaloupe, balled
Banana, peeled and slices
Raspberries
Instructions
Preheat oven to 325F.
In a large mixing bowl combine the the oats, almonds, walnuts, pumpkin seeds and chia seeds, add the melted butter, honey and vanilla and mix until evenly coated.
Grease a 10" tart pan. Pour the mixture into the pan and press the mixture evenly across the pan and sides.
Bake for 15 minutes, until golden brown. Remove from the oven and let cool.
Once cool, pour spoon the Greek yogurt onto the part and spread until even and smooth.
Top with fruit.
Notes
If you are dairy free, coconut milk yogurt makes a great alternative to Greek yogurt.
Kenzie Swanhart http://kenzieswanhart.com/